Published on
Application security is a critical aspect of software development that needs to be taken seriously to protect sensitive data and prevent cyber attacks. However, training developers on AppSec can be challenging, especially in keeping them engaged and motivated.
That's where gamification comes in.
In this article, we'll discuss how AppSec tournaments can help drive engagement in secure coding training and how Security Journey's tournament features can make it easier for organizations to implement them.
Why Your AppSec Training Needs Tournaments
AppSec tournaments are a gamified way to train developers on application security. They typically involve a series of challenges that participants must complete to earn points. The challenges can range from identifying vulnerabilities in code to writing secure code.
Here are some ways that tournaments drive engagement for secure coding training:
Drives Competition

- Developers can compete against each other to see who can solve the most challenges or find the most vulnerabilities. This can help to keep learners motivated and engaged throughout their training.

Creates a Challenge

- Tournaments can provide developers with a safe, controlled environment to test their skills.

Fosters Collaboration

- Tournaments can also help to foster collaboration among developers. As they work together to solve challenges, they can share knowledge and learn from each other.

Promotes Recognition

- Tournaments can provide a way for developers to be recognized for their skills and accomplishments. You can add fun and motivation to your program with leaderboards and prizes.
No matter what type of AppSec tournament you choose, ensure it is relevant to your organization's needs. The challenges should be challenging but not impossible, and the rewards should be meaningful. By doing so, you can help ensure that your developers get the training they need to keep your applications secure.
Read More: Driving Engagement with Secure Coding Training Tournaments
Boost Training Engagement with Security Journey Tournaments
Give your development teams a chance to flex their secure coding muscle with tournaments in the Security Journey AppSec Education Platform. All members of the SDLC can participate in application security tournaments to assess and show their knowledge of fundamental concepts.
The easy-to-use interface enables admins to start a tournament in minutes. Enrolling learners into a tournament is made easy with the ability to choose learners based on job roles, levels, or audiences. You can also upload a file of learners, choose individuals from a list, or make the tournament available to everyone!
There are two types of tournaments available:
Autogenerate

– Exercises are chosen at random within the set tournament filters

Custom

– Exercises are chosen by the tournament creator
With over 300 lessons available, you can set filters to choose the lessons that appear in the tournament/ This includes experiments and hands-on activities that can be incorporated into tournaments.
Some of these filters include:
Technology

Role

Level

Language

Lesson Type

Release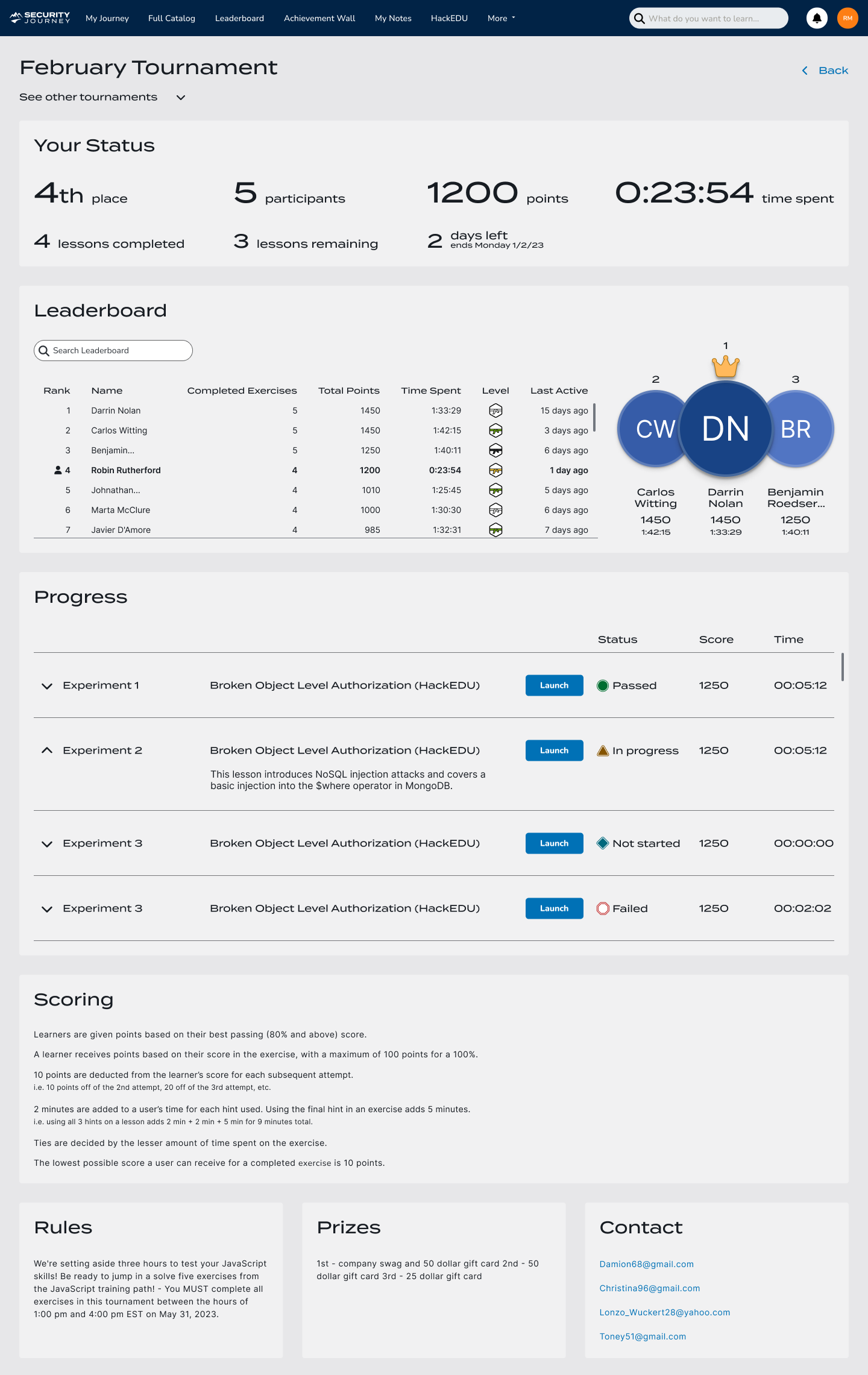 Once the tournament is in play, the tournament leaderboards track key metrics for learners and admins. This tracked information includes:
Points collected

Time spent on tournament lessons

Lessons completed

Lessons remaining

Tournament time tracking
Security Journey makes scoring easy with their proven automatic scoring systems to help keep your learners on track. Tournament scoring is based on the score within each exercise, the number of attempts, time to complete, and the number of hints used.
Learners can easily see their place on the tournament leaderboard and track their progress throughout the tournament.
Want to see our tournaments in action? Contact our team today for a personalized demo!