Trusted at companies large and small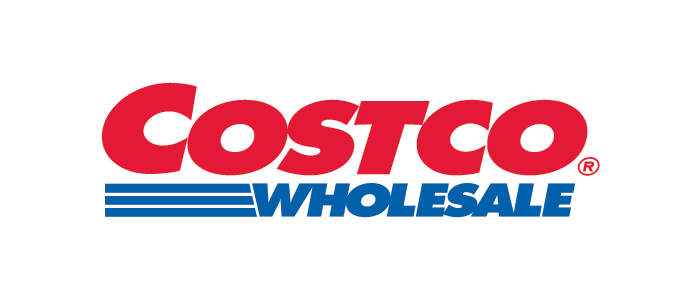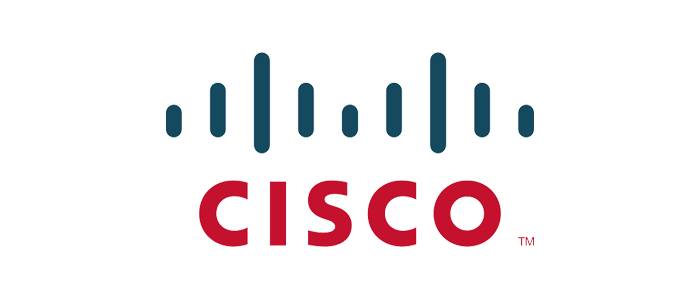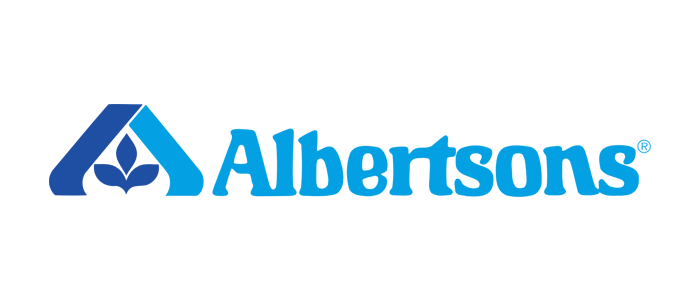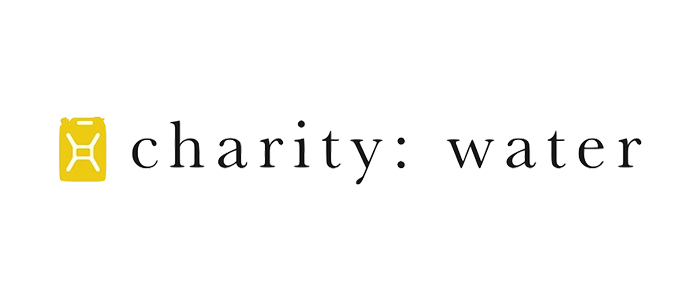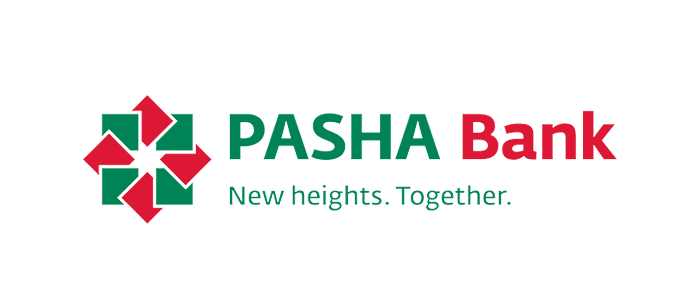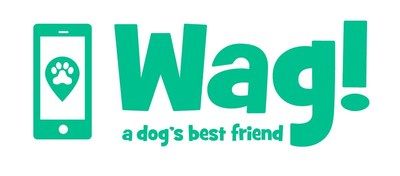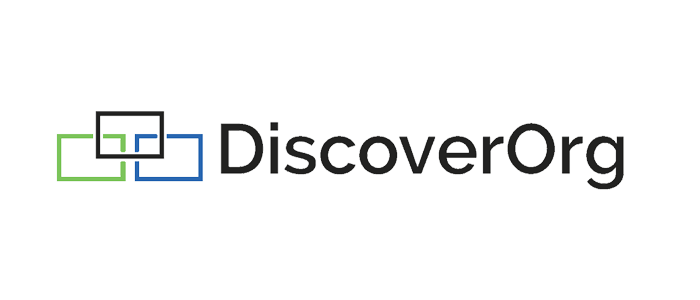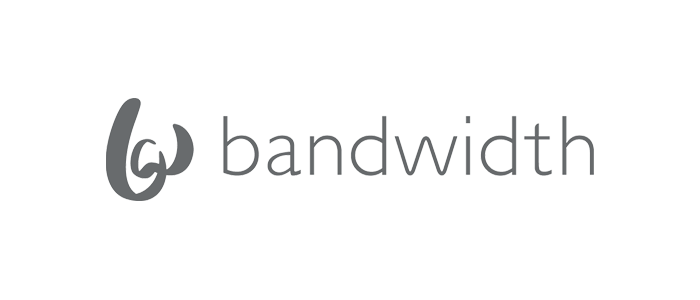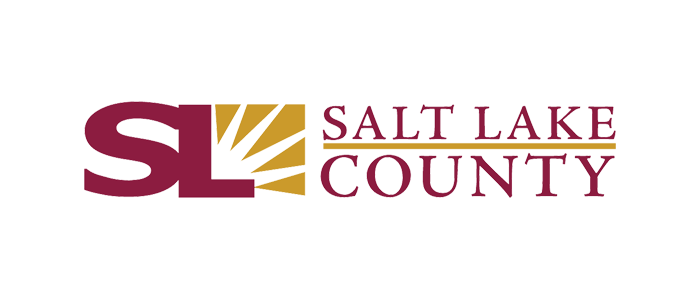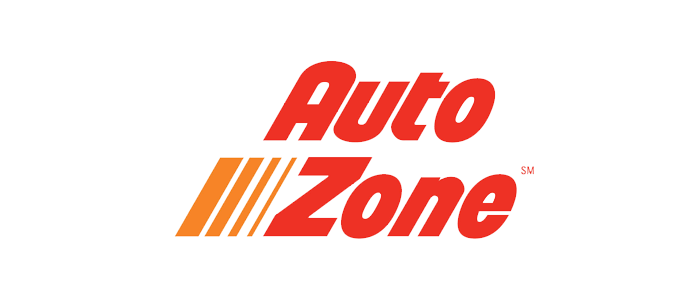 Case Study
Find out how developers find and fix 5.6x more vulnerabilities after taking HackEDU's Training.
115+ topics in Secure Coding Training
This course covers the OWASP Top 10 web vulnerabilities as well as additional vulnerabilities. Additional vulnerabilities can be added if requested.
Languages and Frameworks
You get 115+ topics, including:
Advanced Lessons
These lessons are based on vulnerabilities found in real applications from HackerOne's bug bounty program.
Learn More
Clickjacking
Highly wormable clickjacking vulnerability in Twitter player card.
Blind XXE
XXE in Site Audit function exposing file and directory contents.
Remote Code Execution
RCE by command injection to 'gm convert' in image crop functionality.
SQL Injection with SQLMap
Complex SQL Injection in www.drivegrab.com
XSS using PostMessage
Stealing contact form data on hackerone.com using Marketo Forms XSS.
Included Public Vulnerabilities
HackEDU has sandboxes with public vulnerabilities to learn real world offensive and defensive security techniques in a safe and legal environment.
Learn More
Drupalgeddon2
This sandbox replicates a public Remote Code Execution (RCE) vulnerability in Drupal (CVE-2018-7600).
Struts
This sandbox replicates a public Remote Code Execution (RCE) vulnerability in Apache Struts 2 (CVE-2018-11776).
Zip Slip
This sandbox replicates public vulnerabilities with archive software.
Interactive, Hands-On Training
Developers are problem solvers and learn most effectively through hands-on real-world scenarios. Video and PowerPoint lessons don't cut it.
Try out our SQL Injection Demo to get a feel for how the training platform works. No account or setup is required.
Coding and Hacking Challenges
Coding Challenges are labs where software developers practice finding and fixing vulnerabilities in software. Developers have to both find the vulnerability and then securely code in order to pass the challenge. These challenges compliment HackEDU's lessons and can be assigned before or after lessons to ensure that the training concepts are solidified.
HackEDU's Coding Challenges can also be used as assessments to evaluate the secure coding competency of developers!
Administration Management Dashboard
The HackEDU Admin Dashboard makes it easy to manage and monitor your organization's training.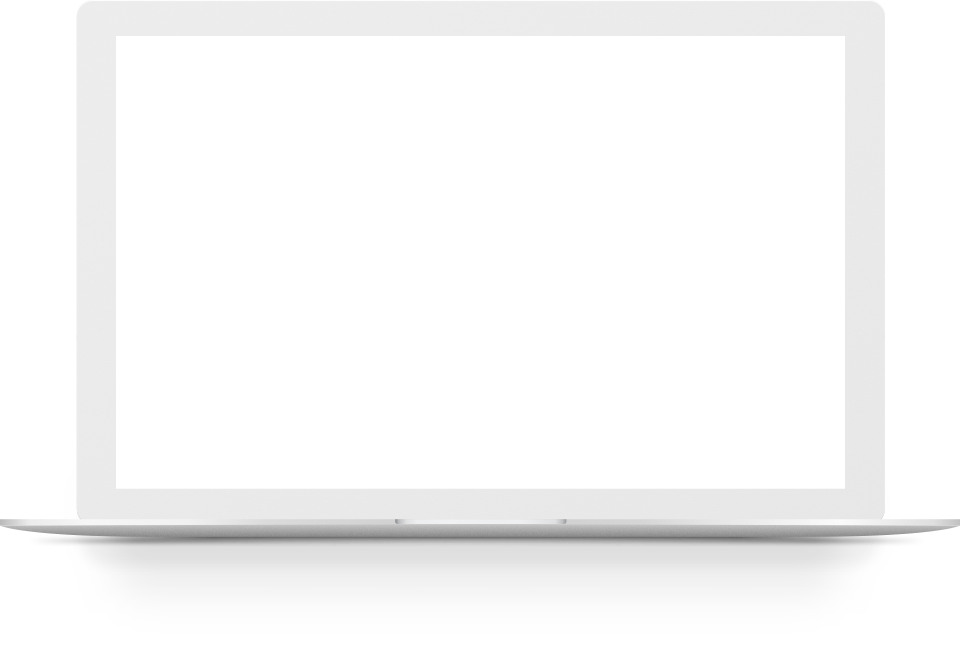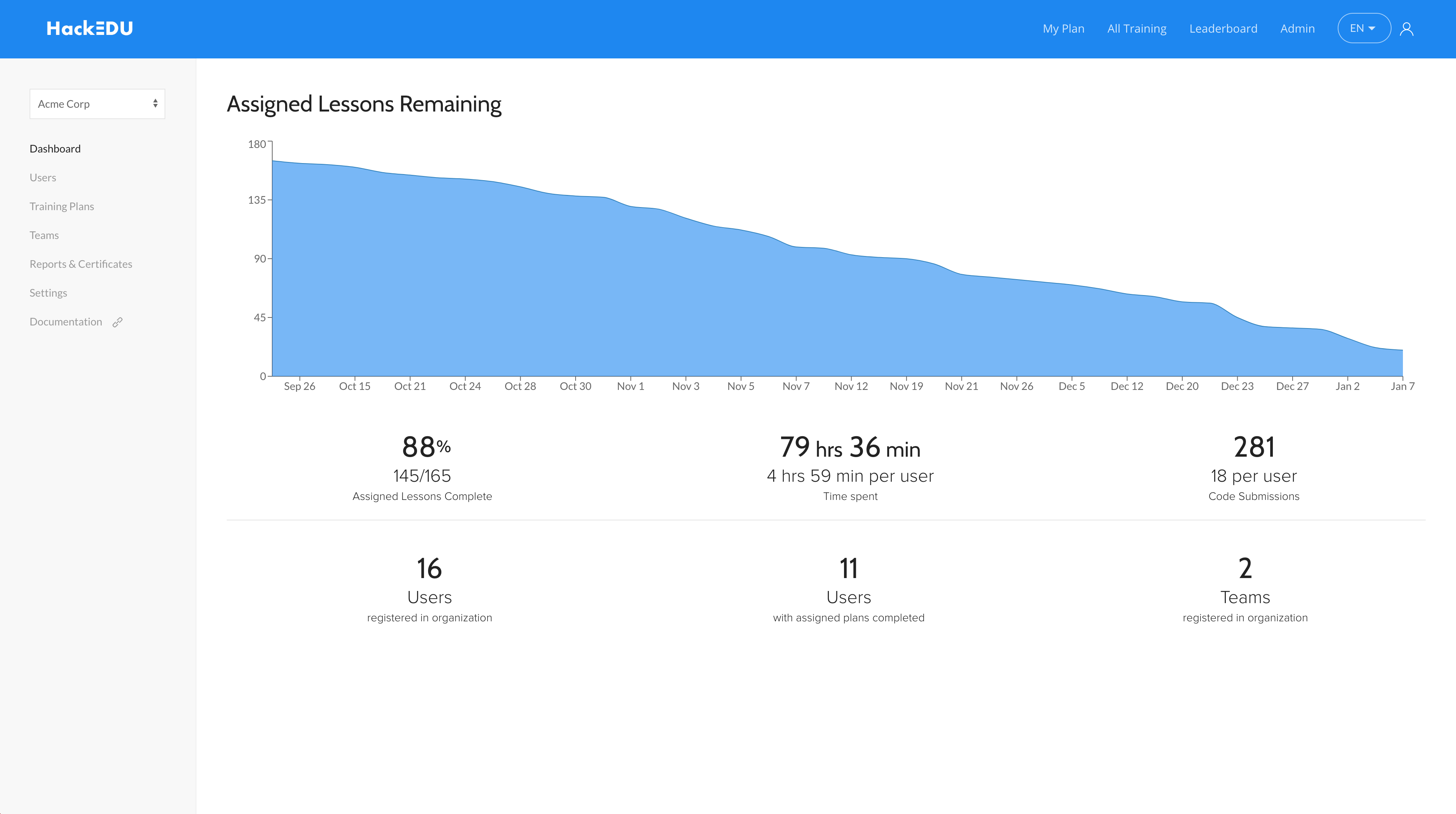 Dashboard Features
Monitor your team's progress
Create custom training plans
Setup SSO
Schedule your teams training to fit your needs
Generate Certificates for compliance audits
Learn More
Benefits of Secure Coding Training
Your developers improve their ability to write secure software, boost their understanding of how software systems are hacked, and decrease the time to solve security related problems.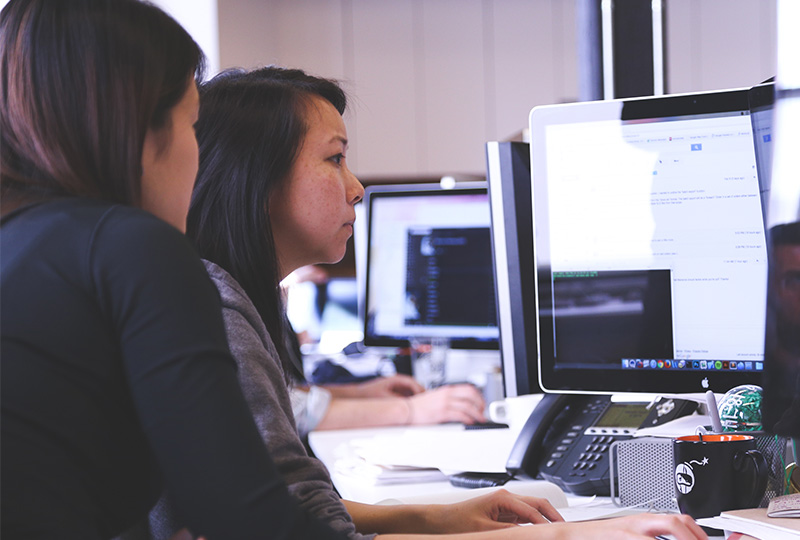 High Developer Engagement
HackEDU focuses on offensive security training which is both more interesting and more effective than defensive training alone. Our training uses developers natural desire to problem solve to help keep them motivated.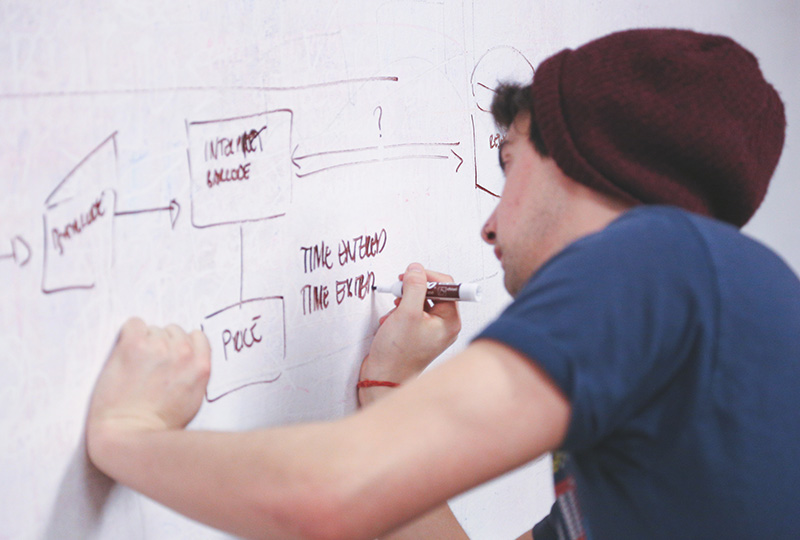 Why Secure Coding Training?
Vulnerabilities increase the risk of data breaches, financial loss, and in the most extreme circumstances can even cause fatalities. Secure coding training will reduce the risk of these incidents.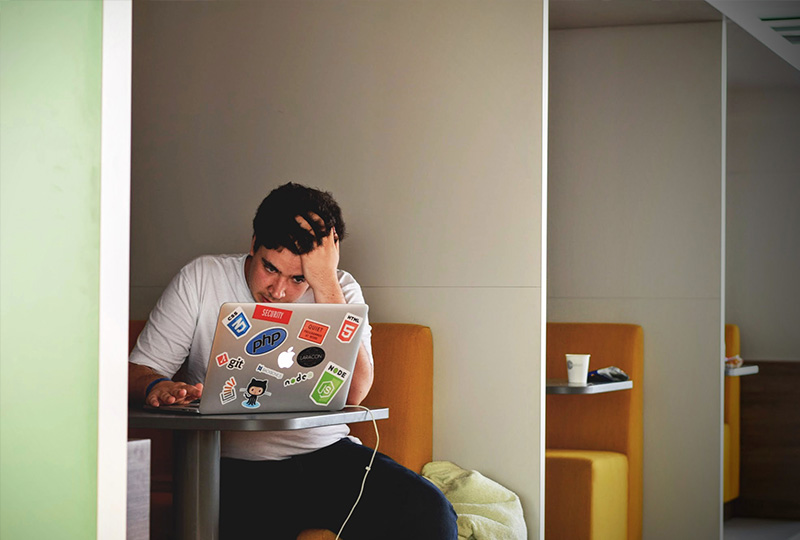 Stop Repeat Vulnerabilities
Training helps stop developers from making repeat vulnerabilities in code. Don't pay bug bounties for the same vulnerability type over and over. End this pattern, save money, and reduce the risk of a security breach via developed software.
Pricing
1-9 Developers
Contact Us for a Custom Quote
Startup Plan
Includes:
All Application Security Lessons
Compliance Requirement Certificates
All Real World Practice Environments
Early Access to New Course Releases
Full Access for 1 Year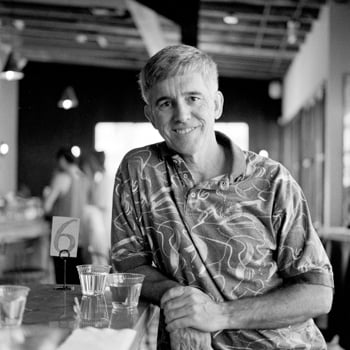 What I've learned already since signing up for HackEDU has proven priceless in terms of protecting one of our major clients against data theft. This week I've been cleaning up several broken authentication issues on their site using the info I've learned just from the course!
Exploiting and then fixing the code is great. Hands on and eye opening, love it.
Really love the fact that you can live patch the application. I really like how easy this makes it to see and understand the problem.